JOIN LIVE THIS THURSDAY 30TH APRIL – 9AM
Our next guest is Jim Molan, Senator for New South Wales, served in the Australian Army for 40 years. Retiring at the rank of Major General in 2008, his service included a broad range of command and staff appointments in operations, training, staff, and military diplomacy. His career saw him deployed to Papua New Guinea, Indonesia, East Timor, Malaysia, Germany, the US, and Iraq. He is an accomplished infantryman, Indonesian speaker, and helicopter pilot. He has commanded units from a platoon of 30 to a division of 15,000, served as the commander of the Australian Defence Colleges, and led the evacuation from the Solomon Islands in 2000. Molan was appointed a Member of the Order of Australia for his role in disaster relief operations in 1991, then made an Officer in the Order of Australia for his role in Indonesia and East Timor in 1999.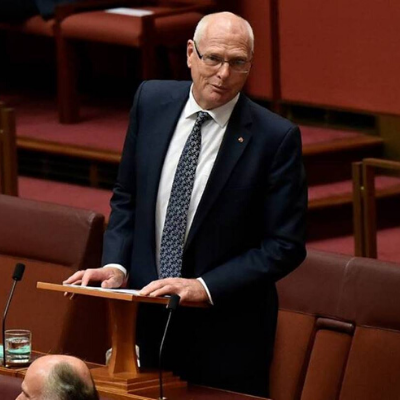 In April 2004, then-Major General Molan served as the Coalition's chief of operations in Iraq, during a period of continuous and intense combat. In this role he controlled the manoeuvre operations of all Coalition forces in Iraq on behalf of the US Commanding General, including the security of Iraq's oil, electricity, and rail infrastructure. He has been described as "the ADF member most directly involved in fighting the insurgents" in the 'unofficial history' of Australia's participation in the Iraq War. For his achievements in this role, Major General Molan was awarded the Distinguished Service Cross by the Australian government for "distinguished command and leadership in action", as well as the Legion of Merit from the US government.
After leaving Iraq, Major General Molan served as Adviser to the Vice Chief of the Australian Defence Force on joint warfighting, and Australia's first Defence Materiel Advocate – promoting Australian defence industry overseas – prior to retirement.
Molan's involvement in politics began when he was asked to contribute to the Coalition's defence policy while in opposition in 2012-13. He was co-author with Scott Morrison of the Coalition's border control policy and served as Prime Minister Abbott's Special Envoy for Operation Sovereign Borders after the 2013 election.
In 2016 Molan was a Liberal candidate for the Senate, where despite being 7th on the Coalition ticket he received more than 10,000 personal votes 'below the line' – the second-highest of all candidates. In December 2017 he was appointed as a Senator by the High Court as a result of the Section 44 citizenship crisis.
As Senator, Molan was an active contributor to many policy debates, including nuclear energy, people smuggling, foreign investment, stillbirth, fuel security, veteran support, and many aspects of defence and national security. At the 2019 election, he received a record more than 137,000 votes 'below the line': the highest number of personal votes in Australian political history.
Senator Molan holds a Bachelor of Arts from the University of New South Wales and a Bachelor of Economics from the University of Queensland. He is a respected commentator on defence and security issues who has written regularly for a range of newspapers, journals, and blogs. For five years he was a director of the St James Ethics Centre and the Sir Richard Williams Foundation airpower think tank. He is co-patron of a foundation commemorating Sergeant Matthew Locke MG, an SAS soldier killed in Afghanistan who had served as Molan's bodyguard, and Friends of Gallipoli, a body established to educate schoolchildren on the Gallipoli Campaign.
Molan is a volunteer firefighter, a qualified pilot, and maintains an active interest in aerial firefighting. He lives with his wife Anne near Queanbeyan, and together they have four children and four grandchildren.
LIVE EVENT DETAILS
DATE: Thursday 30th April
TIME: 9am
DURATION: 30 mins plus question time
LIVE ON: ZOOM (easy set-up process)
INCLUDES LIVE Q & A